(6) Oxymercuration-demercuration of alkenes Markonikov's addition of the elements of water to the double bond occurs. This is a useful synthetic reaction where rearrangements do not occur due to cyclic mercurium ion.


(7) Hydroboration oxidation of alkenes by B2H6 followed by H2O2 Overall reaction is addition of water across the double bond opposite to that of markovnikov's rule This is a very good synthetic method, addition is syn, and no rearrangements are observed.


| | |
| --- | --- |
| (8) Reaction of an amine with nitrous acid | |

(9) Reduction of compounds by NaBH4 and LiAlH4 (Synthesis of alcohol)

(a) NaBH4

Sodium borohydride is a reducing agent. It reduces by transfer of hydride ions to substrates as in the case of lithium aluminium hydride.

Applications

1. Reduction of carbonyl compounds and its derivatives into alcohol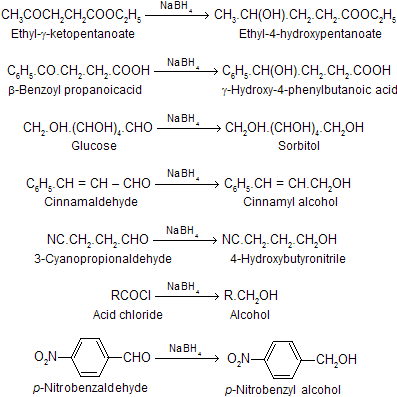 In the above list it will be seen that only the carbonyl group is reduced and the other functional groups remain unaffected. Highly selective behaviour of NaBH4 makes it the preferred reagent for the reduction of carbonyl groups in sensitive polyfunctional group containing compounds.

Lithium Aluminium Hydride(LiAlH4)

Lithium aluminium hydride (LAH) is also one of the very important and useful synthetic reagent for the reduction of carbonyl compounds along with many other compounds.

The reagent is prepared by slowly adding a calculated amount of anhydrous aluminium chloride to a paste of lithium hydride in dry ether or THF.

The reactants and their reduction products with LiAlH4 are listed below.



---