(iii) Reaction with HCI or HBr: When HCI is passed into glycerol at 110°C, both ,

monochlorohydrins are formed. If the HCI gas is passed for sufficient time, glycerol ,

and glycerol ,

are formed.




Same reactions occur with HBr.

(iv) Reaction with HI: Glycerol reacts with HI in two ways:

(a) When glycerol is warmed with a small amount of hydrogen iodide, allyl iodide is formed. First tri iodide is formed but due to large size of iodine atom I2 comes out from product.




(b) When glycerol is heated with a large amount of HI, the allyl iodide first formed is reduced to propene, which in presence of excess of HI forms iso-propyl iodide.




(v) Reaction with nitric acid: When one part of glycerol in a thin stream is added to three times concentrated nitric acid and five parts of concentrated sulphuric acid, nitro-glycerine (glyceryl trinitrate) is formed.




Glyceryl trinitrate is an yellow oily liquid. It is poisonous and causes headache. It explodes violently when heated rapidly or subjected to sudden shock. It releases large volume of gases which occupy 10,900 times the volume of nitro glycerine.




It becomes a safer explosive when absorbed on kieselguhr. In this form, it is known as dynamite. Dynamite was discovered by Alfred Nobel in 1867. The other important explosives prepared from glyceryl trinitrate are:


| | |
| --- | --- |
| | (a) Blasting gelatin - A mixture of glyceryl trinitrate and cellulose nitrate (gun cotton). |
| | (b) Cordite - It is obtained by mixing glyceryl trinitrate with gun cotton and vaseline. It is a smokeless explosive. |

(vi) Reaction with acetic acid, acetic anhydride or acetyl chloride: Mono-, di- and tri-esters are formed.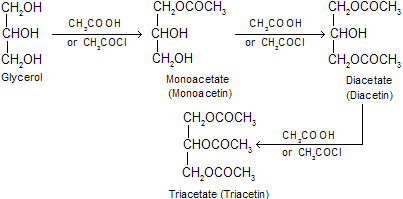 (vii) Reaction with oxalic acid: Different products are formed under different conditions.



(viii) Dehydration: Glycerol when heated alone or with dehydrating agents such as potassium hydrogen sulphate or phosphorus penta oxide or concentrated sulphuric acid, acrolein or acrylaldehyde is formed which has a characteristic bad smell. This reaction can be used as a test of glycerol.



---